The Translation Trust has begun a new project which is structured rather differently than our other projects. Usually we partner with another organisation which provides the main translators while we raise funding and provide checking and editorial expertise. This new project will provide a basic language New Testament for Turkish speakers living in Europe who have never been educated in written Turkish.

In this project the main translator and editor is our secretary, Rod who has begun a thorough revision of a Bulgarian Turkish translation of the New Testament. He is ably assisted in this work by Deniz who is involved in evangelism and discipleship ministry in the UK.
Deniz is an ideal assistant because he is part of the target readership. He knows the needs of the readership. In fact he was the initiator of the project as he saw the need for a colloquial language Turkish Bible for believers who had never had a formal Turkish education. They are being helped to keep the translation accurate by a volunteer NT Greek expert, Pam who lived in Turkey for a number of years. Deniz, a Turkish believer resident in the UK is also checking the grammar and style of the project.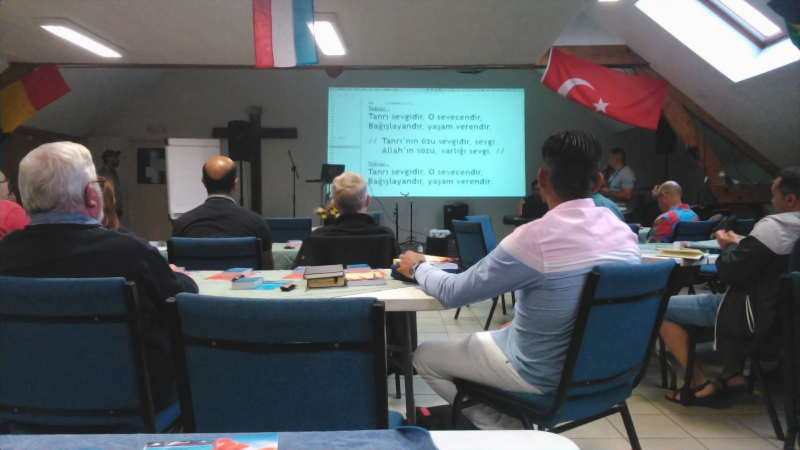 There are two Christian ministries who are partnering with The Translation Trust in the Colloquial European Turkish NT Project. One of these is Global Nomads. Their leader, Eno is a Turkish believer who grew up in Switzerland and after ministering to young people in Switzerland decided to do something for Turkish global nomads. (The term 'global nomad' may be used to describe persons raised in a culture other than their parents' or the culture of the country named on their passport.) Eno and and his friend George met with Charles a representative of the American Bible Society who had come to deliver on a promise to give substantial aid to the work of of Global Nomads in Central Asia. Charles very quickly picked up on their passionate interest in doing a prototype Gospel of John translation and printing it in Macedonia. They spent many hours with him explaining all they knew about Turkish speakers in Europe. Charles definitely wanted to help all he could. He later shared the project with some of the other executives in the American Bible Society.
They came up with a plan to approach an independent Bible publishing company with a view to them becoming partners in the project to provide technical and financial support for the translation and publishing of the project. This company has agreed to support our Basic European Turkish NT project. Their support and expertise will hopefully give our work a higher profile that will lead to a wide distribution among the estimated 9 million Turkish speaking minorities and immigrants in Europe. The Gospel of John has been printed in Germany to be used for field testing.